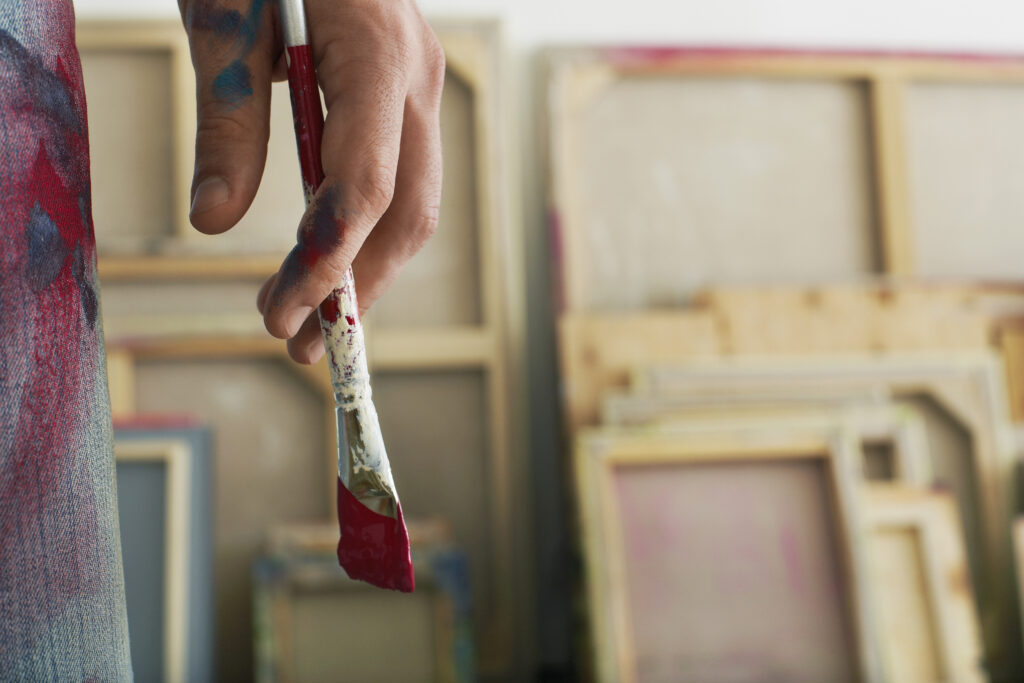 "Art is the activity by which a person, having experienced an emotion, intentionally transmits it to others"

Leo Tolstoy
Pictionary, the classic drawing game developed in the mid 1980s, has always been a favourite in our household. With a partner that is less than enthusiastic when it comes to games of any sort, this is one that he will happily play with the family. In fact, I have yet to meet someone who doesn't enjoy the game, and on top of that, didn't have a blast laughing away at the funny pictures we all try to make look recognizable.
There is something very tangible about creating art. Obviously, there's the fact that you can actually see the creation, as every line you draw, is memorialized.
The biggest obstacle people face is the false belief that you need to be "artistic" or naturally talented at art in order to partake. This fallacy is often disputed by great artists themselves, as anyone who creates art realizes, talent has very little to do with artistic endeavours. It is practice and hard work that will catapult your creative expression to its most influential. This is by far the most common reason more people don't do art. To drive the point home, even colouring can have tremendous healing potential. It's rarely the most realistic or detailed capture of an image that elicits the strongest emotions, it's usually the most honest and raw that provokes.
What Is Art?
Art is the expression of creativity, skill, and imagination, appreciated for its beauty and emotional power. Art can be applied to many different disciplines. Arts such as martial arts, culinary arts become artistic endeavours when these disciplines have entered a more expressionistic quality, where creativity and skill meet. The art we speak of more generally in art therapy though is the tangible fine arts of drawing, painting, and sculpture but also includes expressive arts like dancing, acting, or singing. They all allow one to release stress and concentrate on the task at hand, which is usually fun and loose. There's something very freeing about doing art. It is pure expression, without words and labels that often impose a limiting effect.
The History of Art Therapy
For thousands of years, cultures from around the world have been using art to heal and express themselves through the creation of idols and charms, paintings and symbols. Art has always been used as a means of communication, group interaction, and conflict resolution.
The field of art therapy is young. It only became mainstream in the 1940s although there were pioneers before then exalting its efficacy for treating a multitude of physical/mental disorders. A british artist named Adrian Hill coined the term "Art therapy" in 1942. In his book Art Versus Illness, he promoted the healing power of art. Margaret Naumburg has been called the "Mother of art therapy". She established the Walden school of New York in 1915. She believed that children would experience healthier development if they were able to express themselves creatively. It was also a means of unearthing repressed, unconscious thoughts and emotions. A student of Margaret Naumburg named Hanna Kwiatkowska, was a talented sculptor and artist who later became a therapist for the National Institute for Mental Health, is credited for bridging the gap between her psychotherapy profession and artistic passion. She would see individuals and families for psychotherapy sessions and found that the creative expression of drawing allowed members to better identify their roles within a family. It also seemed to provide relief to those who faced moderate psychological issues and dysfunctions.
What Art Can Do for Your Well Being
Over the years, researchers have realized the tremendous healing power of creative expression. Art therapy has been shown to improve communication, self-expression, and heal past traumas. Its efficacy in resolving issues, improving self-esteem and awareness, reducing stress, and developing and managing behaviours and feelings have been recorded and touted by many. The benefits from art therapy or expressive therapy has nothing to do with talent. That does not even enter into the conversation.
Along with the life-affirming pleasures from making art, there are also many underlying messages communicated through art that can aid in the healing process. Making art has been observed to enhance cognitive abilities and make it easier for people to cope with a variety of symptoms, whether they be physical ailments or related to mental health. The benefits from art span all ages, regardless of experience or talent or anything of the sort.
Positive results have been achieved by those experiencing:
Anxiety
Depresssion
Substance dependency
Stress
PSTD
ADHD
Aging/geriatric issues
Cancer
Compassion fatigue
Heart disease
Anorexia, bulimia, and other eating disorders
Cognitive impairments
Family and relationship issues
It is especially helpful to those who are out of touch with their own feelings/emotion and have difficulty discussing or remembering painful emotions and experiences. Art is the medium through which self-discovery and awareness will shine through.
Art and Illness
Illness is often closely associated with intense emotions, and tactile techniques such as clay can provide a refuge for these feelings. It can be a powerful tool for cathartic release.
Chronically ill individuals have reported better health and well-being. There is also a noticeable decrease in negative emotions and an increase in positive emotions. Art is a springboard for reawakening memories and telling stories that may reveal messages and beliefs from the unconscious mind.
Art is a powerful teacher. It can teach you to accept your emotions, regardless of what your intentions may be when you create art. It will always tell the truth, just like your body. It not only does not lie, it cannot lie.
Art Therapy Versus Therapeutic Qualities of Creating Art
Art therapy is a mental health profession first and foremost. In the US, the American Art Therapy Association requires qualified art therapists to have a minimum of a master's degree. Despite these required credentials, there are many misconceptions surrounding the profession of art therapy. Many think that art therapy can be any random art class. Although most will receive benefits from the simple act of creating art, the profession concerns itself less with the desired finished product and more about an individual's intrinsic experience. This confusion raises some concerns or limitations regarding its effectiveness as a therapy unto itself. Some state that adults may not be inclined to cooperate fully and openly. Another criticism is that there is a lack of supporting empirical evidence that it does indeed work.
Despite any of the bureaucracy that may entail this field, one thing is still certain. Making art of any sort, when fully immersed, is incredibly meditative and calming. That alone is a strong indication that it can have transformative effects.
References
https://www.goodtherapy.org/learn-about-therapy/types/art-therapy
https://www.arttherapyblog.com/what-is-art-therapy/.YTZe-NNKj0o
https://www.psychologytoday.com/ca/therapy-types/art-therapy