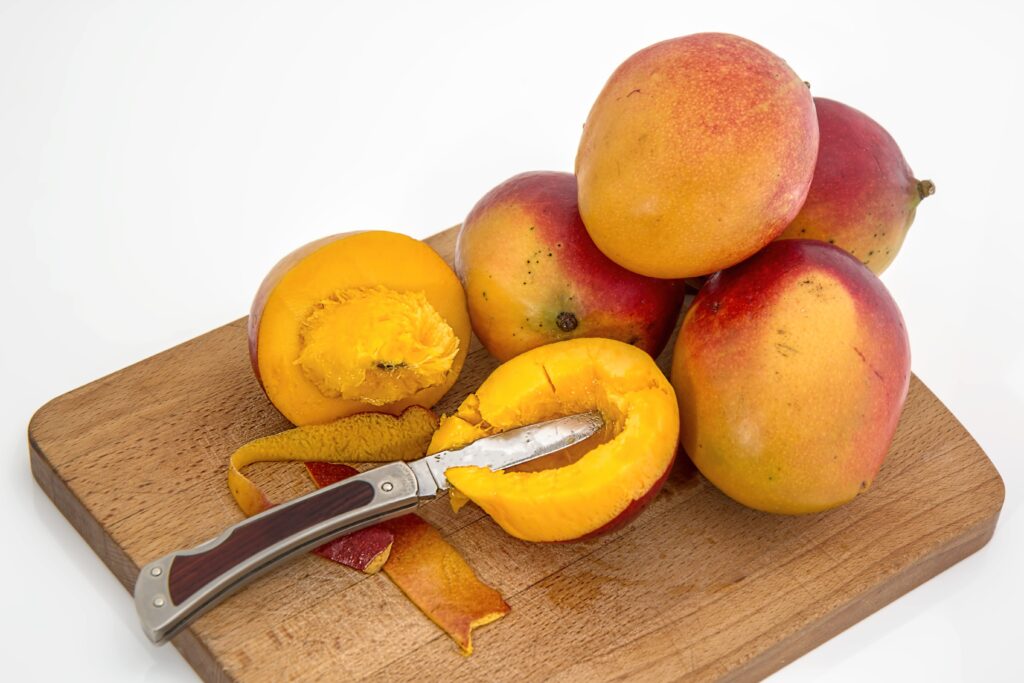 Now that we have officially kicked off that crazy summer most of us won't forget anytime soon, the Summer of 2020, I thought it best I get sharing some sweet treats that will serve our health well!
To start I wanted to bring Mango to everyone's attention. Such an amazing fruit, mangoes have so many health benefits! Super sweet and delicious, they make a great summer treat for so many reasons. To start here are 6 good ones you might want to check out. Perhaps you might even want to pass on the ice cream this summer and whip up a bowl of this goodness!
1) Very Nutritious:
Mangoes are so nutritious, I mean, we are talking superfood levels. Mangoes are a great source of fibre, B vitamins, vitamin C, beta carotene, magnesium and potassium, even small amounts of calcium, iron and zinc.
2) Beneficial for Digestion:
Fibre, B vitamins, Vitamin C, zinc and beta carotene are all very necessary for digestion and energy production. Not only will these nutrients serve our daily needs, but many of these nutrients are also needed for a healthy gut biome. When our beneficial bacteria is healthy and diverse they will also produce nutrients we need for energy and lasting health. Nature's way of providing us with some pretty powerful backup! 
3) Low on the Glycemic Index
So, it may come as a sweet surprise to a few but Mangoes are low and at most average on the Glycemic Index chart. The Glycemic Index is a tool we use to rate the effects of different foods on our blood sugar levels. 0-100, 100 being pure sugar. Anything below 55 is considered low on the glycemic index. On average mongo sits at about 51. Yess! This means people sensitive to sweets and even diabetics can enjoy this sweet treat too. Of course, keep an eye on portions but mangoes are one of the best sweets one can go with. For anyone with diabetes, begin with a 1/2 cup serving to test the effects. 
5) May Prove Helpful in the Fight against Cancer
Mangoes are high in polyphenols that have been shown to reduce oxidative stress, a major factor in fighting cancer. Mangiferin, a polyphenol found in mangoes has been in the spotlight recently. In tests, this polyphenol has been shown to reduce inflammation (also necessary for heart health) and oxidative stress, stop the growth of cancer cells and sometimes even kill cancer cells. Human studies are still needed but it's looking very promising. 
6) So Versatile!
Last but not least mangoes are so versatile! From smoothie bowls to popsicles, salads and salsa, hot or cold, one thing is for sure mango can brighten up any meal! 
With all those nutrients they support our health far better than most sweets out there this time of year. Pretty impressive 'treat' for summer if you ask me! 
Recipe
There are so many amazing mango recipes out there to choose from but it's Summer after all so I'm keeping it sweet. This one is super easy to put together and fun to share with others. 
Smoothie bowls also freeze well if you wish to save some for later.
Mango Soft Serve
(2 servings or so)
2-3 cups frozen mango
2 ripe bananas
1/2 cup (a splash more if needed) full fat coconut milk
1 tsp pure vanilla extract
and a pinch of turmeric to help bring out the glow!
Directions
Place ingredients in the blender and blend until smooth. Such a great creamy ice cream texture, I promise it's sure to please!
Top with additional fresh fruit and hemp hearts.
*Depending on your blender, add a touch of water or a little more coconut milk if too thick to blend. The trick to a thick smoothie bowl is adding as little liquid as possible.
Take good care and I hope everyone has an amazing Summer!
Sarah Hooff CHN