It feels so good to be back! You haven't really seen me on-site yet, but I will be there intermittently, so watch out for loud laughter. I'm looking forward to saying hi to the old and the new staff!
As most of you know, I have been back on the road reconnecting with our alumni. After throwing a few impromptu events earlier in the summer in Alberta and a few in BC, I had many alumni screaming to get to Vancouver Island. So, after much trepidation and back and forth, I went for it – CHALLENGE ACCEPTED.
I packed up my RV and loaded it like any good mother would – full of extra everything. I'm talking extra tents, beds, bedding, BBQ, fishing gear, chairs, food, games, the list goes on! Then it was time to hit the road.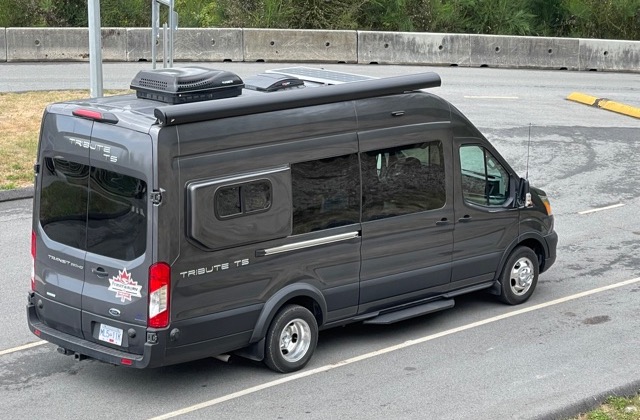 The journey began in Sooke, but only for a quick overnight stay. An alumnus mentioned how he'd like us to visit Lake Cowichan, and the universe spoke, with many other alumni being able to join! There is something to be said about fluidity. In an instant, the course changed, and for the better. The lesson: let go and let the journey take you.
Lake Cowichan was nothing short of magical. I made my epic showstopper dinner (homemade Pita pockets, Mediterranean lamb/beef kebob, homemade Tzatziki, and Greek salad) and fed 13 alumni. An alumnus graciously made and brought the dessert! We were an arm's length away from an Elk, we played many different games, boated and caught some epic waves, and I even taught a few of the alumnus how to lake fish.
The connections were happening again. The meaningful, soulful, spiritual, and deep conversations that were had with our alumni are indescribable. Alumni were beyond grateful that we had started the in-person piece again. The pandemic hit everyone so hard, and many said, "it felt good again to see one another, connect in person, and to feel human again." I couldn't have agreed more. The boatload of laughter we shared, the salutations, the love, the brotherhood, reminded me of why we do this for them. They are worth all the blood, sweat, tears and time we put into them.
After our visit to Lake Cowichan, I had one alumnus travel the rest of the distance with me. He and Sally (my new Chihuahua) officially became co-pilots, or what I like to call, my 'sidekicks'. In Tofino, one of our alumni went surfing for the first time with a few others that had never been there before. We also wanted to place two lockets with charms in one of two popular locations – for the alumni we've lost and for the alumni who continue to work hard in their recovery. Unfortunately, after asking on the trail, a Tofino local told us the structures had been dismantled 2 months earlier. What a feeling I tell you. We tried, and they will be kept until we find the right time and place.
The travelling magical, mystical campervan tour continued its way! Meeting up with multiple alumni, down various roads, at numerous campgrounds, and/or wherever the city, town, village took us through. This journey saw a ton of pavement, some logging roads, some deep insights, and multiple days of belly laughs. One cannot forget the peaceful, tranquil moments in nature that we got to spend together.
By the end of it, I knew that campervan inside and out. Our Alumni could set up his tent in about 5 minutes, and we had finally nailed down the routine of camping on the fly. As the story quite often goes, it's usually when the journey is rounding the finale. In the end, I travelled over 1600 km in that awesome campervan: Sooke, Port Renfrew, Lake Cowichan, Tofino, Ucluelet, Woss Lake Campground, Nanaimo, and Vancouver! I tried to hit Port Hardy but just couldn't make it there – until next time!
There are some shout-outs from our alumni to Jeannette, Craig, Tatiana, Terryl, Davis, nurse Terry, and nurse Ursula. You'll be happy to know that a lot of the guys I connected with are doing AMAZING! Multiple 2 years, 4 years, 1.5 years, 3 years, and various months sober. There were some newbies I had never met that had just left and are working their program! There were also guys struggling, but they were reaching out and looking forward to future events. Time to start planning for my next expedition!