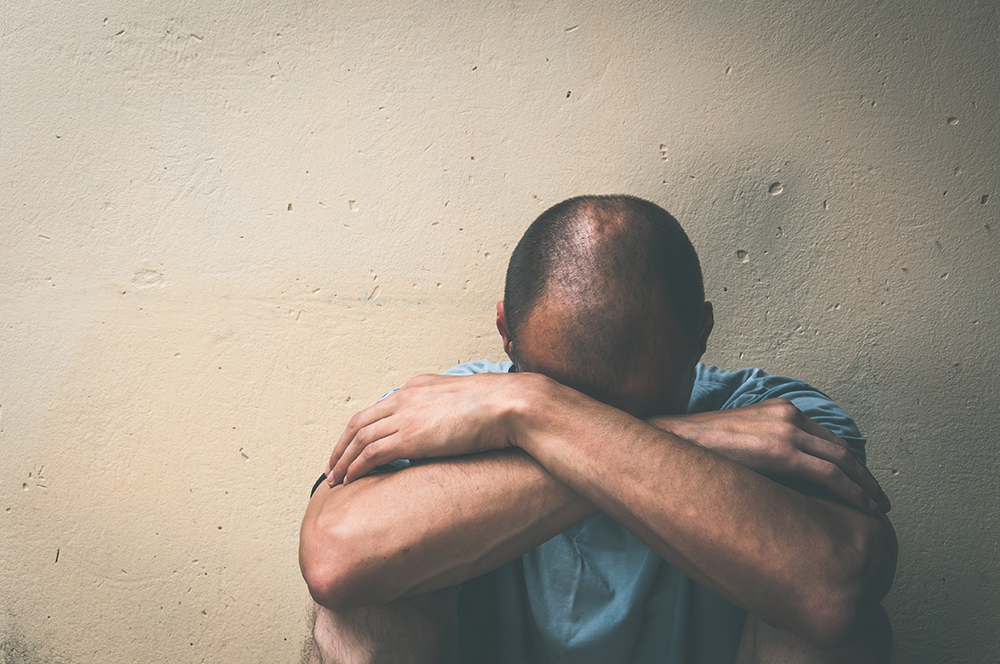 Responding to the COVID-19 Pandemic
As someone who works in addiction treatment, I am saddened by our political leaders' ongoing lack of urgency in response to the opioid overdose crisis. Canada's other public health emergency, the COVID-19 pandemic, has made their neglect even more apparent.
Prime Minister Justin Trudeau has had daily COVID-19 press briefings from the steps of his Ottawa residence. If nothing else, these briefings are designed to assure Canadians that the federal government considers the COVID-19 pandemic a top priority. For the most part, however, Trudeau and provincial leaders have deferred to medical experts in leading the response. At the federal level, Chief Public Health Officer Dr. Theresa Tam has led the charge, while here in British Columbia, Premier John Horgan has kept a low profile, deferring to Provincial Health Officer Dr. Bonnie Henry. Having public health experts lead the way in response to the COVID-19 pandemic is a good thing.
Canada's Other Forgotten Public Health Emergency
Unfortunately, political leaders in Canada have taken a decidedly different approach to the opioid overdose crisis. Trudeau's mandate letter for Canada's new health minister left the opioid epidemic off its priority list. Given that the priorities list was issued last December, long before the first case of COVID-19, public health experts are legitimately concerned about what, if anything is being done to address the opioid overdose crisis. Meanwhile, recent statistics suggest that the COVID-19 pandemic is contributing to the opioid overdose crisis. In March, 113 British Columbians overdosed on illicit drugs, which was the first time in a year the province exceeded 100 overdose deaths in a single month.
As Georgia Straight contributor Travis Lupick pointed out in an October 2019 article, the federal Liberals dedicated a mere two paragraphs to the opioid overdose crisis in an 85-page campaign platform, while the Conservatives' 2019 platform promised a bigger role for law enforcement and the courts to deal with the crisis. The federal Conservatives have long opposed harm reduction initiatives: former Prime Minister Stephen Harper and Minister of Health Tony Clement had long expressed their opposition to harm reduction initiatives designed to lower the human toll of the opioid overdose crisis, particularly supervised consumption sites.
Continued Opposition of Harm Reduction
A recent Maclean's article found a similar opposition to harm reduction in the province of Alberta. On March 12, Premier Jason Kenney ordered a review of supervised consumption sites, arguing that these sites increased local crime and infections due to contaminated syringes. Premier Kenney has also recommended switching from less-restrictive needle and syringe programs (NSP) to needle exchanges (NEP) as a way to decrease needle debris, even though research has already found such an approach led to a 33 percent increase in the risk of HIV/AIDS transmission. Even Premier Kenney acknowledged that no deaths have been recorded at supervised consumption sites while, at the same time, making the unfounded claim that they have increased deaths in their surrounding neighbourhoods.
BC's Provincial Government Deserves Credit
Fortunately, here in BC the Province has taken measures to protect the lives of people with addictions or in recovery. Individuals on opioid replacement therapies now have access to take-home, safe supplies ("carries") of regulated opioid replacement treatments, such as hydromorphone and methadone. Previously, drug users had to line up at pharmacies on a daily basis for these treatments. Recognizing the inherent challenge such a requirement had on drug users' ability to maintain social distancing, the federal government made a change to the Controlled Drugs and Substances Act and the Province of BC eased prescribing guidelines. BC Minister of Mental Health and Addictions Judy Darcy indicated that plans were afoot to support physicians and nurse practitioners across the province to adopt the new carry guidelines.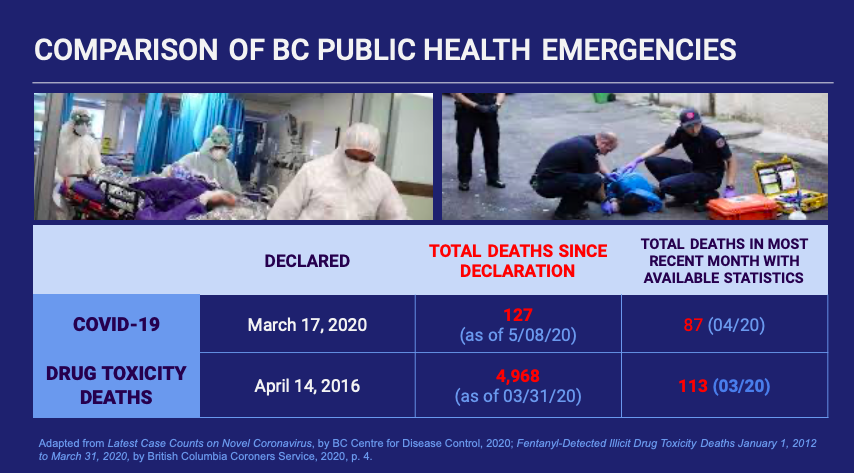 Struggling with TWO Public Health Emergencies
Overall, however, the COVID-19 pandemic has only complicated the lives of those struggling with addictions or those in recovery from them. Many individuals with addictions already have compromised immune systems or respiratory problems, making them more vulnerable to COVID-19. A report out of Indiana found police refusing to administer naloxone, a medication designed to reverse the effects of opioid overdose, for fear that a revived patient may cough on first responders and spread COVID-19. Social distancing measures have led to the closure of many residential treatment centres, support services, and peer-support meetings.
At Sunshine Coast Health Centre, we have had to adjust to the COVID-19 pandemic, including reducing our census to help maintain social distancing. Our 10-bed women's facility, Georgia Strait Women's Clinic, is now being used as an isolation unit as a precautionary step for newly-arriving male clients. We have also implemented online support meetings while recognizing they will never replace the intimacy of one-on-one support.
Political Leadership is Needed
These are particularly difficult times for people with addictions, people in recovery, their families, and healthcare professionals working in addictions. Now, more than ever, political leadership is needed to protect the lives of vulnerable Canadians. Government leaders are to be applauded for their response to COVID-19. Long-term, it appears that governments are recognizing that seniors are a vulnerable population and the need to make systemic changes in long-term care facilities where so many Canadians have lost their lives. Government should do more to help those Canadians who now find themselves vulnerable on two fronts.